You Are Worth It
22 Nov 2019 — 4 min read
By Stacy Green
Tagged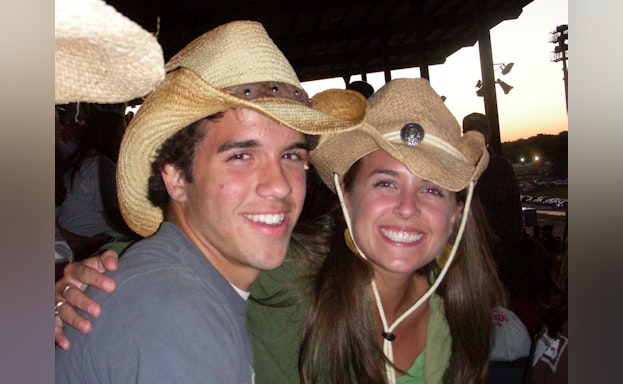 Stacy Taddeo's family is featured in the AFSP-produced documentary Pathways to Healing: Hope after Suicide Loss, which explores the different ways one family and community healed after losing someone close to them. The film is part of our International Survivors of Suicide Loss Day film series. To view this film after it premieres at this year's International Survivors of Suicide Loss Day events, as well as other films in the series (available online now), click here.
Nov. 22, 2019 - October 28th, 2013 was the night my life changed forever. My youngest brother Chris took his own life. His death was a shock to our family. Chris was quiet and did not have much self-confidence, but none of us realized the pain he was in for years before his death.
I remember the night Chris died as if it was yesterday. I remember what I was wearing and what I said to each person I saw or talked with that night. I remember the six-minute drive to my parent's house after my husband told me he thought my brother had taken his own life. I remember how I wished and prayed for four minutes, refusing to call my parents to confirm what had happened. I thought my husband was wrong. I was hoping with all my might that he had misunderstood my mother on the phone and that my brother was, indeed, alive and well.
Halfway to their house, I gave in and called my dad. He confirmed my worst nightmare. Even in this moment, I still thought maybe I had misheard, until I turned down my parents' street and saw their house swarmed with ambulances.
I struggled to understand how this had happened. I had just talked to Chris two hours earlier. He had seemed great. I had signed my daughter up for swim lessons and asked him to attend with me, since my husband could not get out of work on time. Chris joked about her going to the Olympics as a two-year-old. We also made plans for Halloween. In addition to my daughter, I had a son, 28 days old. Chris made plans to meet us on our Halloween route after he finished work. As we got off the phone, there was no doubt in my mind that I would see my brother three days later.
More and more questions occurred to me as the night unfolded. It began with the simple, "How could this happen?" At one point, I found it hard to breathe, and went out on the porch for air and to collect my thoughts. I realized my list of questions has grown. Did Chris know he was going to take his own life before he talked to me? What had him so down that suicide seemed like the best option? Why hadn't he reached out for help if he was in this much pain?
Two days after my brother died, I realized these questions were eating me alive. I called a therapist I had seen on and off in the past for anxiety I had mostly denied I had. He helped me work through my thoughts, and realize that in no way was Chris's death my fault. I was a good sister, no matter the result. Ultimately, I believe that Chris knew I loved him; he simply didn't know how to share his pain. I am not sure why he did not get professional help. The closest I have come to understanding is that I believe he was unsure how or what to say, or maybe even how to communicate his feelings. I think he was scared.
As my anxiety continued to worsen in the time following Chris's death, I saw my therapist more frequently. He encouraged me to let go of the questions, live in the moment, and keep my brother's memory alive. I saw him for years and enjoyed going to my appointment each time. There were times I would take a break, but as soon as I felt I felt I was once again having trouble controlling my anxiety, I would go back.
Why didn't my brother get the help he needed? I will never truly know the answer to that question. But I know that if he had come to me, I would have encouraged him to get help for whatever he was experiencing. Now, when it comes to my own mental health, I think of Chris, because if I had wanted him to get help, I realize I have to want it for myself, too.
In the six years since Chris passed, I have seen a therapist on and off, and tried a common SSRI to help me battle my anxiety and depression. I now manage my anxiety by enlisting a support group and professional help. There have been times I made excuses about seeing a therapist: it can be expensive, hard to find someone who takes the right insurance, time-consuming, or difficult to make an appointment. But now, I let those things go, and prioritize taking care of me. Chris was worth it, I am worth it, and so are you.
I now advocate for others to get help when they are struggling. As a teacher, I work with many teenagers each day. Teaching them about mental wellness and getting help is important to me. I am on the local AFSP board. I am also an Out of the Darkness Walk chair, and lead suicide prevention education programs in schools and businesses in my area. I love connecting with my community to let them know that it is okay to struggle, as long as you seek help.
Help is out there for all of us. It may not be the first thing you try, or the first therapist you talk to, but it exists for everyone. And you're worth it.