Bringing Suicide Prevention to a School for the Deaf and Hard of Hearing
2 Mar 2018 — 3 min read
Tagged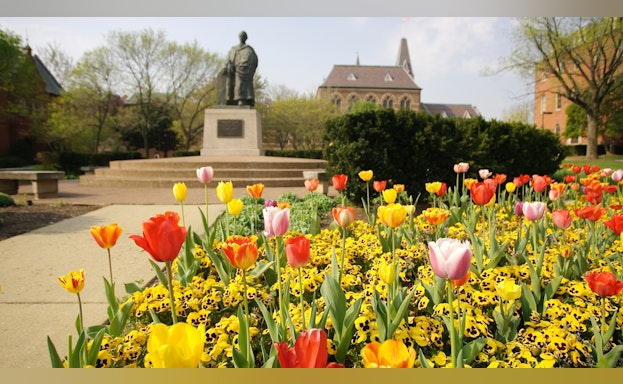 March 2, 2018 - As a mental health counselor at Gallaudet University, the world's only university designed for deaf and hard of hearing students, it was important to me to reach students suffering with depression, anxiety, and other mental health challenges, and encourage them to get help. This is exactly what the American Foundation for Suicide Prevention's Interactive Screening Program was created to do: reach individuals who might not otherwise seek out mental health services.
Deaf and hard of hearing students face various unique considerations. Many families, for instance, do not learn sign language, and therefore communication and relationships with their deaf children is impaired. This leads to higher levels of depression and anxiety in the deaf population. Complicating matters, access to culturally competent mental health care is limited for this community.
ISP wasn't the first connection made between Gallaudet and AFSP. In 2015 Gallaudet held its first AFSP Out of the Darkness Campus Walk, which provided the space for students, staff and faculty to openly share stories related to mental health and suicide. The walk served as a way to strengthen Gallaudet's commitment to providing the best possible mental health services to our students. Consequently, AFSP invited members of the CAPS staff to its national headquarters in New York to discuss ways in which we could better work together.
From this meeting, it was decided we would implement AFSP's Interactive Screening Program on our campus to reach out to students who were suffering, and encourage them to connect with the Counseling and Psychological Services (CAPS) that were available to them. Through an ISP website customized for our school, students would be invited to fill out a confidential mental health questionnaire, after which they would receive a personalized response from one of the mental health counselors at Gallaudet's CAPS program. Students could then – still anonymously – dialogue with the counselor, and set up an appointment to come in to meet with them in person, if they so desired.
Since our campus is comprised of students who are deaf or hard of hearing, and American Sign Language (ASL) is the first language for many deaf individuals, AFSP worked with us to add an ASL option to the questionnaire. CAPS counselors on our campus are fluent in American Sign Language (ASL) and knowledgeable in Deaf culture. One of my CAPS colleagues who is deaf translated each question on the questionnaire into ASL as a video feature on our customized ISP website. This allowed us to give students the option of either reading the question in English, viewing it in ASL, or using a combination of both languages. This customization enabled students to have full accessibility to the ISP.
It was exciting for me, as a counselor, to monitor students' initial responses to the questionnaire. Soon after sending out invitations via email, several students filled out the questionnaire, and then dialogued with me over the platform. It quickly became obvious to me that one student, in particular, was struggling with mental health challenges, based on the information they provided on the form. I wasn't sure what they would decide to do: continue to suffer and try to deal with their symptoms on their own, or seek out the services we had available.
At one point during our electronic dialogue, the student noted that prior to engaging with ISP, they had never even thought about counseling. I am happy to report that encouraged by the anonymous conversation with me through ISP, the student soon initiated in-person counseling. They then began to process their long time struggle with symptoms of depression and anxiety. The student now says they look forward to their weekly counseling sessions, and having the space to focus on their wellbeing. The student is currently learning healthy coping mechanisms to address their struggles.
Gallaudet is committed to continuing the work of promoting mental health and suicide prevention on our campus, and we're so glad to partner with AFSP – and the Interactive Screening program – to help us do it.