Giving Thanks to Our Volunteers
18 Apr 2022 — 8 min read
By AFSP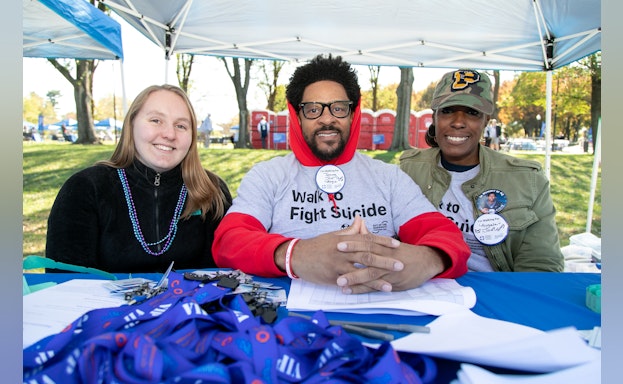 National Volunteer Appreciation Week takes place on the third week of April each year. For the American Foundation for Suicide Prevention, it's a moment that feels particularly special because we couldn't accomplish all we do, in our chapters throughout the country, without the support of our volunteers, many of whom have a personal connection to the cause. Their passion, support, and hard work makes all the difference and provides the backbone of community that is felt by more and more people every day.
We've asked five of our Area Directors – one from each geographical division of local chapters across the United States – to share a few thoughts about how they feel about our dedicated volunteers. Here's what they said.
Kelsey Aaron, AFSP Area Director, Indiana (East Central Division)
When I think of AFSP's volunteers, whether they have lost someone to suicide, have personally struggled, or who simply believe in the cause, I think of the words of one person who regularly describes AFSP volunteers as having a beautiful way of "using their pain for purpose." I am continually inspired by how our volunteers reach back to support those who are newly bereaved or who are now finding their voice for advocacy. The true superpower of AFSP's volunteers lies in their ability to connect and make a safe space for others to be seen; and to say their loved one's name or openly share their own personal struggle, so that others feel they can do so without judgement.
Our volunteers embody and personify our mission to save lives and bring hope to those affected by suicide. When I think of using one's pain for purpose, so many volunteer faces come to mind, along with flashes of their honor bead colors, which participants at AFSP's Out of the Darkness Walks wear to represent their personal connection to the cause.
One sweet face I picture is that of an AFSP volunteer who has lost multiple loved ones to suicide. In her 10 years as a volunteer, she has served in many roles within our chapter: Walk Committee member, coordinator for International Survivors of Suicide Loss Day, Healing Conversations volunteer, public policy Field Advocate, LGBTQ outreach…the list goes on. More recently, she became a board member of our chapter, and now, board chair. Under her leadership, she has helped transform our local Community Walk from one that started with 150 walkers, and is now ranked in the top five in the nation.
If you know her, you know what it feels to be seen and to have a safe space to be yourself. I personally know this to be true, because she walked alongside me as I navigated my own grief journey after suicide loss. She is proof that one person truly can change the world, with one hug, one smile and one step at a time.
Tara Sullivan Larsen, AFSP Area Director, Central and Southern Florida (Southern Division)
I am always profoundly touched when I see the impact just one of our volunteers can have on our community, let alone the reach of hundreds of volunteers coming together across the country.
One particular volunteer immediately springs to mind for me. She had lost her brother to suicide, and had taken her first steps toward healing by joining an Out of the Darkness Campus Walk held at the University of Central Florida. Although she was not a student, she joined the Walk in the weeks following her brother's death to find support. She knew she was surrounded by loving people who have been through similar experiences, and that it was a safe haven for those feeling isolated by their loss. AFSP showed her that we can remember our loves ones for who they are, and come from a place of acceptance and understanding. In her grief, she was determined to make a better future for herself, her family and anyone affected by suicide loss. This determination led to her volunteering with the Central Florida Chapter Board and leading the Polk County Out of the Darkness Community Walk.
From those first steps at the Walk, she has taken many more steps in her healing journey by educating herself and others on suicide prevention and providing support to those who have been bereaved by suicide. In the process, she has helped hundreds of others in her community along the way. Not only has she helped to organize a Community Walk, she has presented education programs such as Talk Saves Lives, and learned how to support other survivors of suicide loss by attending AFSP's Support Group Facilitator Training. She has volunteered with our Healing Conversations program and lead an International Survivors of Suicide Loss Day program. She has also become involved as a volunteer Field Advocate, traveling to Tallahassee and Washington, D.C. to have important conversations with law makers in support of mental health and suicide prevention legislation that will make a difference.
I will never forget the care and attention this one volunteer put into planning her first Community Walk, because she knew first-hand how important it is to have someone walking with you out of the darkness.
Taryn Hiatt, AFSP Area Director, Utah and Nevada (Western Division)

When I lost my dad in 2002, I found the American Foundation for Suicide Prevention, and began volunteering with the AFSP chapter in my local community to make a difference and raise funds for things like education programs, support for those affected by suicide, advocacy, and research. I quickly got to see firsthand why AFSP volunteer efforts matter. I'm now an Area Director for the organization.
A few weeks back, I received a call from a young mom. Her conversation began with, "I got a call from my daughter's principal." I expected the call to be about her daughter needing support. Instead, she informed me that the principal had let her know her daughter wanted to organize an informational and fundraising table for suicide prevention at a school event that would be happening the following week. The principal had approved the event, and wanted to see what he could do to help.
The mom didn't know her daughter had even requested this – but she knew why. This young woman had lost her dad to suicide a few months earlier. Another girl would be organizing a table involving cancer: the two of them wanted to raise money for the illnesses that took their dads. I loved that suicide was understood to be a health issue.
The girls made signs, and I met with this young lady prior to the event and dropped off AFSP education materials, some swag to hand out, and AFSP shirts to wear. The excitement on this young girl's face brought me to tears. She had taken something that was so painful in her young life and did something good with it. And I had made a friend for life:)
This young woman's willingness to give of herself is what volunteering for AFSP is all about – and it's just one example of people whose lives have been impacted by suicide, and who by volunteering, make a powerful difference in their community.
Amy Monahan, AFSP Area Director, New York City (Northeastern Division)
The New York City chapter's volunteer base is as diverse as the city itself, and we believe the same diversity that makes our city special is exactly what makes our volunteer base so amazing. Our volunteers' reasons for joining our organization are also varied. We have one young woman in her twenties who lost a dear friend to suicide five years ago. Through her involvement with the chapter, she made it her mission to bring suicide prevention education to as many young adults in our community as possible. But she didn't stop there! She was then inspired to create a Young Leadership Committee for our chapter as a way of pulling together our younger members, ages 21-35, who, like her, are dedicated to supporting our cause. These amazing volunteers have a chance to socialize with each other and bond while using their passion and dedication to planning events, fundraising, recruiting other volunteers, and bringing Talk Saves Lives and other educational programming to our area. She's a great example of how someone can take a painful moment of loss and combine it with creativity and energy to ignite a fire in others and make a huge difference beyond herself in the community.
When I see volunteers like this young woman, and what a journey they have been on, it leads me to think back to those tentative first steps each person takes in finding their way to AFSP's warm and welcoming community, myself included. I remember how anxious I felt six years ago, as a new staff person – and loss survivor, myself – in a planning meeting for my first International Survivors of Suicide Loss Day event. One of the first volunteers I met was a mother who had lost her son to suicide over 20 years ago. She sat with me and told me how AFSP has impacted her life and how much this annual event meant to her. She had joined the planning committee with a group of other volunteers, and was grateful that her involvement had introduced her to a way to bring comfort and understanding to more recent suicide loss survivors. She remembered how she had felt so many years earlier. She now gains additional comfort from making sure Survivor Day (as the event is often referred to) is impactful and healing for all who attend. In addition to volunteering for Survivor Day, she is involved in our Healing Conversations program, and the Overnight Walk is something she attends each year with her family.
It warms my heart to think of how special our community of volunteers is. We couldn't have the impact on our culture without them. Knowing they gain strength from their involvement, and from each other, leaves me feeling endlessly inspired.
Cammy Hazim, AFSP Area Director, South Texas (Central Division)
AFSP is a volunteer-driven organization: we depend on our volunteers to infuse our mission into their communities. Many of our volunteers are drawn to AFSP because of the hope and love they feel at our events, and they want to find a way to transform their own personal connection to suicide into something positive and meaningful.
That's exactly what happened in 2019, when I reached out to someone who had put together their own personal team for our Houston Out of the Darkness Walk. I introduced myself, and learned this person had lost her brother to suicide, and how that had impacted her and her family's life. The more I talked to her about the grassroots work our chapters do, the more excited she got. I knew she could be a great asset to our chapter.
We met after the Walk to talk about the things she was passionate about. Things like making sure no other family would feel the same way hers did after her brother died, and helping to make sure more people would know about the education, resources, and community that AFSP provides. After learning more about her interests, I introduced her to our board, and we invited her to join us as Treasurer. Ultimately, she went on to be a Campus Walk Chair (maintaining her team's #1 Top Team status at the Houston Out of the Darkness Walk), and has now taken the reigns to be our Chapter Chair. She likes to say that when she is wearing her AFSP hat, it makes her feel close to her brother, Nathan, and that it's how she honors his legacy.
This is just one volunteer's story. Our work doesn't happen without the help and heart of our volunteers, and for that we are grateful!
AFSP loves our volunteers! Learn how you can make a difference in your own community.